Top Message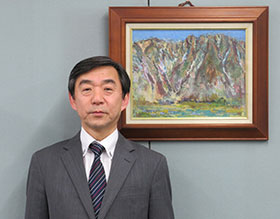 Shinryo Company not only handles raw materials for the production Soba, a traditional Japanese buckwheat noodles called Soba, but also other important food items like mung beans and black matpe, which are not cultivated in Japan.
As buyers become increasingly health conscious about the food they eat, Shinryo Company looks to the future to seeks to handle various cereals to meet growing interest.
As to buckwheat and black rice, through each domestic contract cultivation we are attaching importance to local characteristic and trying to leave the rural culture and to improve the rate of supply and demand.
We cannot but depend on import trade for most raw materials.
The seriousness of global warming increasingly threatens crop production. Weather is increasingly unstable and disasters from typhoon and torrential rain are growing. Given the unstable natural environment, being able to secure raw materials is imperative and so trade with foreign nations is expanding.
Shinryo's mission is to support food safety and sustainability by reliably securing raw materials that customers want and need.
Shinryo was established as a specialized trading company with a corporate culture firmly based in creative thinking outside-the-box. We are going to be a dynamic company that confronts challenging to new business opportunities with an open and independent mind.
Company Profile
Company Name
 Shinryo Co., Ltd.
Head Office
 Seiko Bldg.6F,2 – 7- 4,Irifune,Chuo – ku
 Tokyo 104 – 0042, Japan
 Ph:+81-(0)-3-3523-1271
President
 Shigeki Komaita
Establishment
 April 1, 2004
Paid – in Capital
 40,000,000  yen
Bank Reference
MUFG Bank, Ltd.
Sumitomo Mitsui Banking Corporation
Mizuho Bank, Ltd.
Resona Bank, Ltd.
The Chiba Bank, Ltd.
The Bank of Yokohama, Ltd.
Kiraboshi Bank, Ltd.
The Shoko Chukin Bank, Ltd.
Business Summary
Trading of Domestic, U.S. , Chinese and Russian Buckwheat
Trading of Chinese and Myanmar Mung beans /Soybeans
Trading of Grains, Agricultural products, food, food additives
Suppliers
Exporters of China ,North America, Myanmar, Russia, Mongolia,
and Other overseas countries
Domestic Agri. Cooperative and Farms
Company History
| | |
| --- | --- |
| 2004 | Established |
| 2005 | Head Office Relocated |
| 2014 | Shigeki Komaita promoted President |